Welcome to our very first House Hack ever! What's a House Hack? It's us taking a real or hypothetical or speculative renovation request, and then taking you through its entire design process. It'll cover everything from homeowner profiles and preferences, design proposals, and, in some cases, the final outcome of the work.
Hypothetical cases are based on actual job inquiries and experience so it's not just a bit of wishful thinking but a combination of imaginative, useful, and practical ideas.
Client and Apartment Profile
Our first case study is a hypothetical one: a single 40-ish single lady, who we'll call Rosie, that recently bought a 3-room HDB Resale Flat. She's got fur-babies, a dog and chinchilla, and expects nieces to drop by for sleepovers every now and again. She loves to cook and binge on Korean dramas on Netflix.


Design Preferences
Rosie likes the look of modern luxury apartments. She really wants gold trimmings. She's classy, after all. Being classy doesn't come free so she works hard and can't afford to spend much time on cleaning up the place. She's too practical to hire a helper; the apartment isn't that huge anyway.


Must-haves
Rosie's must-haves for the bedroom is a reflection of her fondness of luxury life, specifically, 5-star hotels. She may not travel much, but she has been to enough to know what she likes; a walk-in wardrobe for her vast wardrobe and a vanity area complete with a basin in the bedroom.
That wardrobe? It takes up space. Lots of it. Rosie knows it. Which is why she gave the green light to smash some walls to make it happen, if we really needed to (spoiler: we did). How else would she binge on K-dramas on her big screen TV?
Part of making the place easy to clean and use involves having a bar counter for her meals when she's alone. Sure, she'll have a dining table, but that is like bringing a cannon to shoot a fly; a little overkill.
She's got quite a collection of trinkets, the nice kind, so display cabinets are a necessity.
Design Considerations and Solutions
Bedroom
What she wanted
Rosie's must-haves for the bedroom is a reflection of her fondness of luxury life, specifically, 5-star hotels. She may not travel much, but she has been to enough to know what she likes; an area to do her makeup and have easy access to water in the bedroom and a walk-in closet for her vast wardrobe.


What we did
The bedroom is pretty large so adding a vanity counter with a wash basin is easy enough. This dresser doesn't just do double duty as a wash area, it helps to de-clutter the existing bathroom.
Ma

king Room
What she wanted
The walk-in closet was a little more challenging. We had to commandeer space from the living room to make it happen. Since Rosie had given her approval to smash some walls for it, if we really needed to and we proceeded to use that option. As she would be living alone, Rosie would prefer to dine at a smaller table with a view of the TV. When there are guests, she'd use the dining table.


What we did
Rosie had no plans for the storeroom so we tore it down. The effect was two-fold; it created a living room that felt so much more spacious and now has a place to put a bar counter. Since she works from home on some days of the week, the bar counter nicely doubles up as a work desk as well. For good measure and symmetry, we also took down a part of the spare bedroom. We made it smaller (giving more space to the living room) but we still made it very space efficient; it would come complete with a flip down bed and wardrobe! That, and the initial layout had two entrances facing each other so we repositioned the spare room's door. Also, we designed it so that it gels beautifully with the TV feature wall.
Furnishings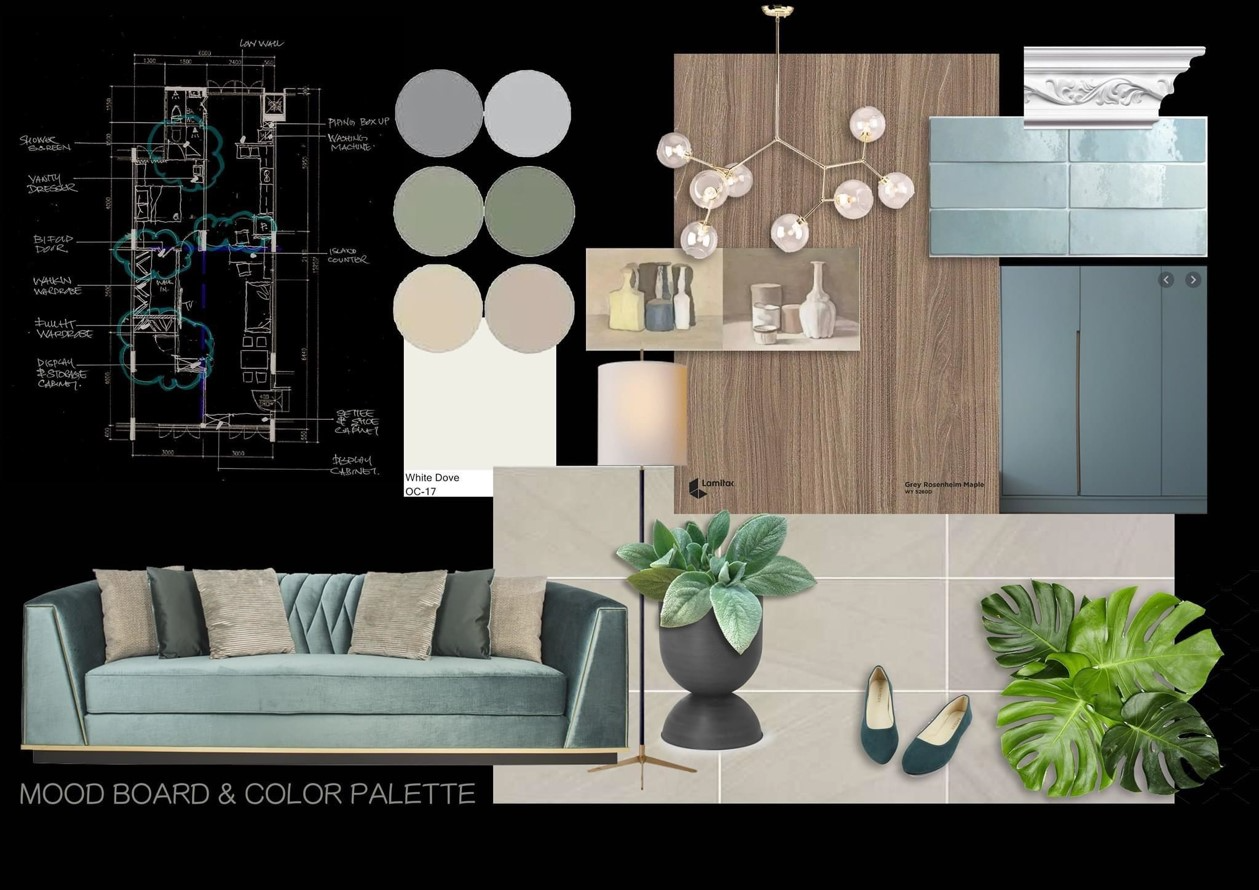 Theme and Features
Going with the modern luxury look, we proposed pastel colours to complement the gold trimmings. The colours will transition between the three chosen ones from the entrance all the way to the yard area.
For the classy features, we went subtle: cornices and wood laminates add elegance without being loud. Fluted panels make some appearances in the apartment but not so many as to overstay their welcome.
Instead of plain walls, we suggested wainscoting. These lend a bit of an old English sophistication reminiscent of colonial homes.
To soften the hard edges, we opted for round-edged tables and some greenery to bring a bit of nature.
Foyer/Dining
The foyer welcomes Rosie (and her guests) with a bench featuring a shoe cabinet underneath. A built-in dining table delineates the foyer from the living room.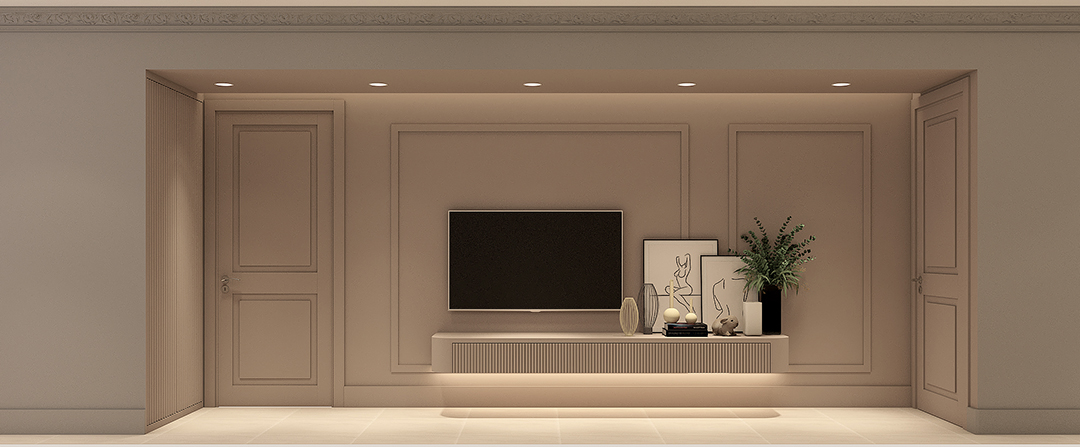 Living Room
Rosie's got a Netflix account and doesn't have a film collection per se. As such, it wasn't necessary to have a massive TV console — a smart TV wouldn't need it. That said, having a console would be a great opportunity for a display area and décor; it's right smack in the middle of the pathway leading to the rooms, after all. Since it is where it is, it was imperative to make sure that it is non-intrusive but dignified looking. To add on some features to the design, we've included some fluted slits to the console doors to accentuate the cabinet and to give it a textural quality.
Spare Bedroom
Since Rosie's got plans for her niece, she thought it would be nice to have a study table with a hidden bed to make the most of the space. The room would also include a full height wardrobe.
Kitchen
Just as we did with the dining table, we designed an L-shaped kitchen to help separate the yard area from the kitchen.
A bar which would be Rosie's personal area for meals, splits the living room from the kitchen. Fluted panels and a marble top would scream classiness.
Master Bedroom
The master bedroom walls have a mix of rattan weave and fabric to help isolate the room from outside sounds. It gives the room a sense of being an island retreat from all the busyness outside.
The piece de resistance is the walk-in wardrobe. Open shelves line the wall for easy access to Rosie's wardrobe. Mirror backing for all parts of the room gives it a more open feel.
A Luxury Escape
This hypothetical case study represents how some designers work, not just reproducing what the clients ask for, but to consider how best to compliment their lifestyle. Rosie may not have been a real person, but she does represent a demographic that an experienced interior knows how to cater for. In this case, a single lady who loves modern luxury.